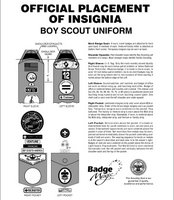 I dislike sewing. It may be due to the fact that I am not a good at it. I remember the last time I tried sewing a patch to my uniform. After three attempts to get it right I quit trying, and have not gone back to it.
When I went to the 2001 National Jamboree one Scout's mother agreed to sew the patches on my shirt. She did a fantastic job. The uniform stills looks great. Unfortunately, she does not enjoy sewing either, although she is good at it.
The last time I needed a patch sewn on my shirt I took it to a lady in town who has a home business. She did a good job of sewing, charged very reasonably, but I did not feel she did a great job of patch placement before sewing the patches on the shirt.
Okay then, I now need a new patch put onto my shirt. I do not like sewing. The mother who did a great job of sewing is no longer doing it. The sewing lady in town I am not completely happy with. What is a scoutmaster to do? (And no, I have no plans to learn who to sew!)
Well, lucky for me, a found something online that sounds promising. It is called Patch Magic, an adhesive to apply patches to a Scout uniform. It even has how-to videos on the site. I watched a couple and it almost looks to good to be true. I am very tempted to purchase it and see how it works. You can check it out by clicking here.
My question to the readers of this blog is, "Have you tried this product? Does it work well? Is it easy to remove?" If the answer is yes to these questions I think I have discovered a better way for patches to be placed on my uniform.