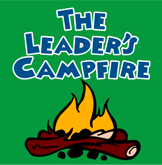 The internet has opened new worlds of information and new ways to communicate since it became popular two decades ago. (Gosh, has it been that long already?) During the last few years audio and video podcasts have become a popular method of delivering sights and sounds to the web audience.
Those of you who visit this blog know that it also serves as the home of the Melrose Scouting Productions Podcast, or MSPP. This podcast features videos of Boy Scout activities and even campfire songs and skits. Is MSPP the only Scouting related podcast on the web? No, not at all. There are dozens of Scouting podcasts listed on the iTunes music store. If you do a search on Google or Yahoo I am sure you would find dozens, if not hundreds, more.
I was recently a guest on an audio podcast which discusses Cub Scouting topics. The Leader's Campfire is hosted by two Cub Scout leaders, Mr. Bob and Cubmaster Chris. During the shows (thirty so far) they have covered a wide range of Cub Scouting, Tiger Cubbing, and Webelos topics. Occasionally they invite a guest or two on the show.
I was invited to be a member of a panel of leaders to discuss Webelos transition for the thirtieth episode. Bob, Chris, and I were joined by John, Lori, and Mac, who are Cub Scout leaders from around the country. The final product turned out to be nearly an hour long podcast about Webelos transition. I am not going to cover the details about what we discussed in this blog because I want you to go to their website and listen to it. I strongly suggest that Cubmasters and Webelos den leaders listen to this podcast, episode 30.
Personally, it was a great experience for me. I was able to meet five fantastic and dedicated Cub leaders from around the United States, and share ideas with them. Hopefully, those ideas will help other Cub Scout and Webelos leaders around the country.
This was the second time that I have participated in a podcast of the PTC Media network. The first time just kinda happened when one night when I found myself online the same time Mr. Bob and his son Ty were about to tape an episode of Akela's Adventure. Ty, Bob, and Buttons, the radical Boy Scout, had a great time discussing the activities Ty participated in while at Cub Scout Day Camp.
I invite you all to listen to The Leader's Campfire, Episode #30. Should I be allowed to participate in another podcast in the future? Or should I retire my microphone and headset? Let me know what you think by leaving a comment.
And don't forget, that anyone who leaves a comment to a "A Scoutmaster's Blog" article this month will be entered into a drawing for a dvd-r featuring twenty Scouting promotional videos.