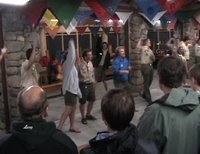 The summer camp season is over. Troops have gone home, adult leaders have gone back to work, and the Boy Scouts are preparing for school to begin. By now the many young adults who spend their summers as camp staff have also gone home. Many of them are preparing for another year of college.
The staff at the Buckskin Camp of Many Point Scout Camp in Minnesota did an excellent job this year. They were hard working, always cheerful, and ready to assist any of the Boy Scout campers who needed a little extra help. The Boy Scouts of Troop 68 attended camp during July 15-21 and had a great time, mainly due to the wonderful camp staff.
So, this post to the Melrose Scouting Productions Podcast is dedicated to the hard working summer camp staff. This video features the Buckskin staff at the week's opening campfire program singing the Many Point Rouser. You may notice that we are inside the dining hall during the campfire program. We like to stay dry when we can. I like the way the staff is so fired up and ready for a good time. That attitude spread among the Scouts like wildfire.
Enjoy it and let us know what you think of it by leaving a comment.
Download Podcast
Watch Video on the troop's website.
Subscribe through iTunes.