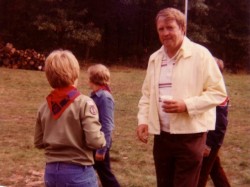 (This is the second of a two part post.)
In September, 1981, it was time for a special troop committee meeting to decide what to do about the scoutmaster who was not doing his job satisfactory. The district executive had been invited to the meeting for his input and ideas. The meeting was held at a local restaurant. I attended but I had to leave early to go to the Cub Pack's committee meeting. (I was planning to become the Webelos den leader.)Nothing had been decided by the troop committee before I left.
On the way home from the Cub Pack meeting I noticed that a couple of the troop committee members were still there chatting. I stopped in to find out what had been decided.I was surprised when they told me they had decided to dismiss the current scoutmaster. I did not realize at that time that that could be done, but they were told by the district executive that that was one option.
The second thing they told me surprised me even more.They had appointed me as the new scoutmaster! They had not even asked me! I had turned 21 two months earlier in July so I was now qualified.Well, I was not sure I was ready for this position, but I agreed to take it.I also had to call back the Cubmaster and tell him that I would not be able to take the Webelos den leader position.
I felt proud of myself to be a 21 year old scoutmaster.My ego was riding high until the Scouts found out about it.For some reason that I have yet to really determine, almost one third of the troop membership quit after I took the role.I tell you that brought the ego back down to where it needed to be pretty fast.
During the next years we worked hard to bring a quality program to the troop. The membership grew and the troop thrived.
Recently, troop membership is down due to difficulties that the Cub Pack has been having.I have been teasing the Boy Scouts that I would stay as scoutmaster at least until September, even if the troop roster continues to shrink. "Why September?" they ask. "Because then I will have my 25 years in as scoutmaster and I can retire", I tell them with a smile on my face.