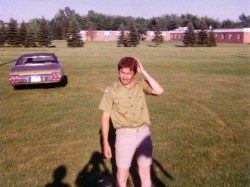 The first year of our nearly started troop went pretty well. We had a full committee, a scoutmaster, a couple of assistant scoutmasters, and a decent size group of Scouts, about 15-20. Our troop leaders had taken some training. We had done a few outings, including a council event at Camp Ripley National Guard Base, and a canoe trip down the river that runs through town. We even had a plan for the next few months. Yep, things were looking good.
Toward the end of 1980 our scoutmaster, John, gave his notice of resignation for the end of January, 1981. He was one of the few policemen our town had at the time and being the scoutmaster just was not working out very well with the hours he was putting in. We all understood his problem. Thus, the end of January arrived, and Troop 68 no longer had a scoutmaster. In other words, no one had stepped up to the plate yet.
I was only 20 years old when John resigned, so I could not be the scoutmaster. The other assistant scoutmasters did not want the job either. No member of the committee stepped forward. So, we went on without a scoutmaster. That is, until the council found out. The council made it clear that there would be a scoutmaster or they would pull our charter. Well, that got a little action. George, our committee chairman, decided to step down from his post and "temporarily" take the job as scoutmaster.
George was scoutmaster for only a couple months when the committee found someone they thought would be a great candidate for the job. A new chiropractor, Don, had moved into town, and he had earned the Eagle Scout rank as a Boy Scout. The troop signed him up as scoutmaster right away.
At first, things went well. But the Monday night meetings did not fit Don's schedule well so he changed them to Tuesday nights. Unfortunately, that created problems with high school sports. As the month's continued we began to see less and less of Don at troop functions. It finally got to the point were I, the assistant scoutmaster, was actually doing the work of scoutmaster. I will never forgot the night that Don invited me out to dinner to get an update on the troop because he had lost track of what was going on.
By this time, the committee was quite frustrated. They did not know what they could do about the situation so they called in the district executive for a special meeting.
(To be continued…..)