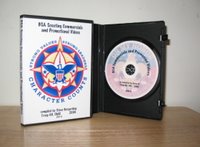 July was a good month for visitors to "A Scoutmaster's Blog". In addition to those of you who are regulars readers there were a lot of new visitors to the blog. The articles about the eighty year old assistant scoutmaster, the camp ranger, and the Boy Scout pick-up lines were very popular.
To thank you all for reading this blog I would like to hold a drawing this month. I plan to give two lucky winners a dvd I compiled which includes about twenty short Scouting promotional videos. These videos can be seen on our troop's website and on Youtube. I have had quite a few people ask for a copy of this video during the past year so I thought this might make a nice prize for this drawing.
If you would like to be entered as a participant for this drawing all you have to do is to leave a comment to an August article of this blog. Comments to previous blog articles will not apply. I will hold the drawing at the end of the month. Comments must include a name and email address (so that I can let you know if you are a winner.) Anonymous entries will not be included in the drawing. I will limit the entries to two per person. (This drawing is not sponsored by the BSA.)
Good luck! And thanks for reading "A Scoutmaster's Blog".