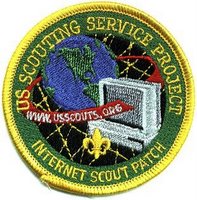 Back in February I posted about some Scouting related blogs I have come across. Well, five months have past. I have found that a couple of have their names since then. I have also discovered a few more that I would like to share with you. Check them out and see what you think of them.
Akela's Adventure (Cub Scouting Podcast): http://akelasadventure.com/
The Leader's Campfire (Cub Scouting Podcast): http://www.leaderscampfire.com/
The Scouting Vine (Scouting News): http://goodturn.newsvine.com/
A Scout's Campfire: http://www.scoutcampfire.com/
Troop 11, From The Committee Chair: http://troop11bsa.org/barnes_blog/
Rikki's Scouting Resources (Scouting in Australia): http://rikkiresources.wordpress.com/
Scouts From The Big City: http://houstonscouts.blogspot.com/
The picture of the patch is from the USSSP website. It is an (unofficial) award that you may earn through the internet. Check it out.
If you know of any other good Scouting Blogs then drop me a line.