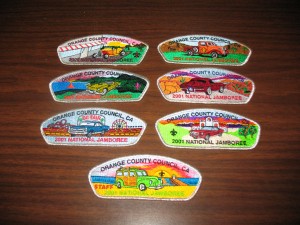 A couple weeks ago I went onto eBay and had a bidding binge on various sets of 2001 National Jamboree council shoulder patches. It had been awhile since I worked on my collection and I thought it was time to add a few more patches to the collection. There was a nice selection for sale that evening. I think I must have bid on several auctions, most of them sets of patches but also a few individuals. Most of the auctions went for more than I was willing to pay, but I did win a couple.
I received the 2001 Jamboree Orange County Council CSP seven patch set in the mail today. I am impressed. I had seen one or two of these patches when I was at the Jamboree, but I was not able to even think about getting the set of patches. I was able to buy the patches through the auction at a very reasonable price: $14.00 plus $2.50 for shipping. The patches are in mint condition and have not been worn. This is a great addition to my collection.
I also won an auction for a patch I did not even know existed. It is labeled as the 2001 National Jamboree Scouting Collectors of Minnesota. There seems to be a patch for each of the 50 states. According to the auction site only ten patches were made for each state, each with the same design but a different color scheme. I find that to be a little hard to believe because that very same night I found another of the same patch up for sale. If that is true, I now own 20% of these patches. The value of the patches seem to be directly based on the state. Minnesota was very reasonably priced. New York patches are quite a bit higher priced.
I do collect council shoulder patches from all times and all councils, but the 2001 National Jamboree holds a special place in my collection since I attended as a scoutmaster for Central Minnesota Council 1417. Our patch featured Paul Bunyan and Babe, the blue ox.