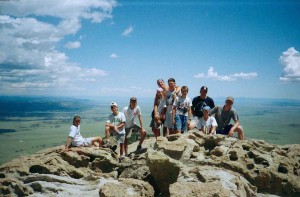 The following is an excerpt from the journal I wrote of Boy Scout Troop 68's trip to Philmont Scout Ranch in 1992. It was our last full day on the trail, the day we would climb the Tooth Of Time.
Saturday, August 8, Day 11
Today is our last full day on the trail. It is also the day we have been waiting for – the day we climb Schaefer's Pass. We awaken early to the cries of a cowboy yelling "Hup" to the group of horses he in moving past our campsite. When I first awoke I thought it was some camper yelling about a bear in camp. Josh decides to get everyone up at 5:50 a.m. Everyone's gear seems to be fairly dry, except for Paul's down sleeping bag. It feels a bit damp. Hopefully it will dry by tonight.
It will take a little while for our tents to dry. Usually we set them in the morning sun before we pack them. That is going to be a bit difficult this morning. Our site is in a stand of trees. Sunshine is going to be rather scarce. The dry creek that was next to us last night has quite a bit of water moving through it this morning.
This is our last camp with a water supply. Josh and Tim use the opportunity to scrub the pots as clean as they can get them. If they do a good job we should not have to clean them again when we get back to base camp tomorrow.
We take our time as we pack the gear. We are not in much of a hurry to get to our next camp. There is no program or staff there. Only three meals remain to be carried. The sun does not dry our tents and flies very well so we end up packing them wet. We leave camp at 8:45 a.m.
Today's hike will be seven kilometers long, almost all uphill. We will be passing through Upper Clarks Fork Camp and Shaefers Pass Camp before we come to the stretch of trail we have been dreading since we began our trek – Shaefers Pass. I have hiked this trail during my last two treks to Philmont. It is steep, rugged, and full of switchbacks. Today we will be climbing it … with our packs on. It will be quite a challenge. We will stop for a rest on Shaefers Peak before we go on to the last camp of our trek, Tooth Ridge Camp.
The hike from to Shaefers Pass Camp is almost totally uphill. Could this be training for the big hike? The crew is staying together well. We arrive at the Pass Camp at 10:05 am. Josh does not want to stay and rest for very long. He wants to get the pass out of the way as soon as possible. I talk him into let me get a group picture around a post full of signs before we leave.
Shaefers Pass turns out to be as tough as we expected, but not as long as I remembered it. Josh sets a fairly good pace. Rest stops are frequent, but no one is hearing any complaints from me. The group spreads out as the climb continues. Tom and Al are in the rear and seem to fall behind quickly. Tom is having problems with his legs and needs to take it slow.
We reach the summit of Shaefers Peak at 10:40. The kids are awed by the view as they drop their packs. Corey is astounded. Tom and Nathan are snapping pictures in every direction. To the North is the valley that we walked through yesterday. In the northwest rises Baldy Mountain. Everyone is glad they made. The hike was worth the trouble.
The hike to Tooth Ridge Camp is full of switchbacks and seems to go on forever. Every once in a while we would get a glimpse of the Tooth of Time but it never seemed to get any closer. It does not take long before the boy's spirits begin to fall. Josh, who is still leading the expedition, has suddenly picked up the pace. The crew divides into two groups. Josh, Ross, Jason, Tim, Greg and Pete move ahead as if there is no tomorrow. The rest of us take it easy and try to enjoy the hike.
I am beginning to grow very irritated with the group ahead of us. They seem to have the attitude that we do not need to stick together. They are so far ahead that they do not hear or answer me when I call to them. Nathan sums up the situation when he says, "This Sucks!" I agree with him. Tom's knees must be getting pretty painful. He is getting slower and taking more rest stops as we go on. Why is it that every group goes through this? What has happened to the thinking process? Being a team? Sticking together? I keep wondering what would happen if someone in the back group would get hurt. How will be guys in the front find out? Will they care? Where is the responsibility of the crew leaders to keep the group as one?
Actually, the group had stayed together very well during the whole trek. Until today.
I am not in a good mood when we finally do catch up with the fast pacesetters. I hold my tongue and do not say much to them about how I feel. In fact, I hardly talk to them at all. They finally stopped at the beginning of the trail that leads to the Tooth of Time. Their packs have already been formed into a pack line. The decision is made to eat our lunch here. The group is somewhat quiet as we eat peanut butter, crackers, and slim jims. Everyone drinks their water sparingly. We will not be able to refill our canteens until we get back to tent city tomorrow.
The Tooth of Time was probably the highlight for most of the crew. Before we begin climbing I warn the crew that I will not tolerate any horseplay or running around once we are on top. The Tooth can be a dangerous place if we are not careful. I even went so far as to threaten that anyone who does goof off up there will not receive their Philmont patch. They appear to understand my concern.
The path is well defined for the first half of the journey. Then it vanishes into a rocky outcropping that we end up half walking, half climbing. Soon, it is everyone for himself, trying to find a safe way to get to the top.
The scouts are glad to have come to Philmont when they reach the peak. It seems that we can see for hundreds of miles in every direction, and probably can. Almost all of Philmont's landmarks are there for us to see; Webster Lake, Deer Lake Mesa, Urraca Mesa, both Bear and Black Mountains, tent city, the training center, and of course, Baldyæ Mountain. Baldy looks a long way away from here, and it is, about seventeen miles as the crow flies.
This is what we came for. This is what Philmont is known for.
The crew spends it's first minutes exploring the nooks and crannies that the Tooth has to offer. I can not help but think what their mothers would be thinking as they approach the south side which happens to be a cliff over 400 feet high. Several of us look for the three markers that engineers and surveyors have placed on the Tooth. It is a tradition for those who climb the mountain to touch all three of them.
We spend close to thirty minutes on the Tooth before we head back down to our packs. Finding the trail again proves to be a challenge in itself. Find it we do and soon we are putting our packs back on. A few of the guys express an interest in resting here and taking a short nap. I remind them that once we get to camp they can sleep as much as they want. Besides, it is only a half of a mile from where we are currently standing.