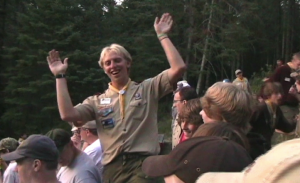 It is almost a tradition. During the past few years I have taken my video camera along to summer camp and recorded the opening and closing campfire programs. These programs are edited down to become podcast episodes and a dvd for the Boy Scouts who attended camp. Over the past few years I have posted a video to the Melrose Scout Productions Podcast featuring the Buckskin staff of Many Point Scout Camp as they lead the campers in the Many Point Rouser at the beginning of the Sunday evening campfire. It is now time to post the 2010 version.
It amazes me every year we go to summer camp how energized the camp staff always seems to be. When they lead the boys in the rouser with so much enthusiasm it sets the stage for the entire week. The Boy Scouts know they have a staff that is anxious to work with them during the week and ready to have fun while they do. So, let's dedicate this video to not only the Buckskin staff of Many Point Scout Camp but to all the staff members of summer camps around the country.
By the way, this video also contains footage of a couple of very athletic guys doing a little pre-campfire show, and the introduction of the troops at camp.
Do not forget to go to iTunes and rate the podcast. It has been awhile since the Melrose Scout Productions Podcast has received some iTunes love.
Click here to DOWNLOAD and watch this Podcast.
Subscribe to Melrose Scouting Productions Podcast through iTunes (and rate the show)
or at http://feeds2.feedburner.com/melrosescoutingproductions
Check out other Scouting podcasts at PTC Media.