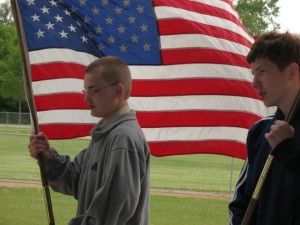 My  last post about ten reasons to be a Scout leader has been a popular post to this blog. One of the replies I received about the post was from a member of the "Boy Scout/Cub Scout Adult Leaders" group on LinkedIn.
Rush Kester lives in the Washington D.C. area. He has been involved with Scouting for 23 years and has held several positions including cubmaster and assistant scoutmaster, so he has a little experience behind him. Here is what is wrote in regards to becoming a Scout Leader:
*Weekend campouts are a great change of pace from office work and a stress reliever from any occupation.
*Observing the other kids is a good reminder that the stuff your child does (that drive you nuts) is "normal."
*Folks, both youth & adults, can disagree and still have fun together.
*It keeps you young and active
*Its a great way to bond with your children
*The "quality" time you spend with your children is multiplied by the many other youth who benefit from your leadership.
*Your children will turn out better for it.
*There are other's to remind your children that "character counts" with an easy to remember 12 point program.
*It's a great way to see & do things that you wouldn't normally.
*It's a lot cheaper than theme park vacations every year.
*It's a good reminder that your community still cares about things that are important.
I especially like the "12 point program" reason. Thanks for the list Rush, and for giving me permission to reprint it here.