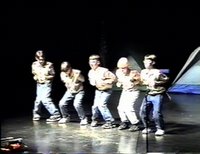 The Boy Scouts of Troop 68 in Melrose have been doing an annual show called Laughs For Lunch for over ten years. The show follows a campfire program format and features songs and skits you may see while you enjoy a program at summer camp or a camporee. The Laughs for Lunch Shows usually last for ninety minutes or so. Both the Boy Scouts and the audience have a good time.
This entry to the Melrose Scouting Productions Podcast features five Scouts from the 1998 show performing an old favorite, "Singing In The Rain". I am sure you are very familiar with the song, but are you familiar with the actions that go with it during a Boy Scout campfire program? It is great fun to have the audience stand up and perform this song with the leaders. Try it yourself. It could be quite interesting to do this song at your next pack meeting or troop weekend camping trip.
Just for your information, it has been ten years since this skit was filmed with a vhs camera. These boys are now close to finishing college. One has even served his country over in Iraq. Gosh, where does the time go?
Download Podcast
or Watch the Video on the troop's website.
Subscribe through iTunes.