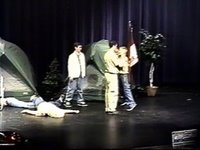 The Mad Scientist Skit was a favorite of the Boy Scouts of Melrose Troop 68 for several years. It became a recurring skit in the troop's yearly Laughs For Lunch Show. The Scouts had a lot of fun with it and tried to change it a little bit each year.
This is a story about a mad scientist who has plans to take over the world! Of course, he has created a monster (like the Frankenstein monster) who will assist in his plans of world conquest. As he is finishing his plans, people begin knocking on his door. The scientist does not want to be disturbed so he uses his monster to take care of the unwanted visitors. Of course, by the end of the skit we discover that things do not go according to the mad scientist's plans.
The troop changes the visitors who come knocking at the door from year to year. Of course, there is the Girl Scout selling cookies, or the Boy Scout selling popcorn. We usually do three visitors during the skit. In this video, the skit does not end when you think it does. The Scouts added one little feature that carried over into the next act during the show.
We appreciate reading your comments, so please take a minute to write one.
Download Podcast
or Watch the Video on the troop's website.
Subscribe through iTunes.