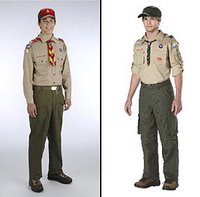 The Boy Scouts of America is coming with with a new uniform in August! Oh, you have heard about that already? I thought you might have. I am probably the last Scouting blogger to write about the new uniform. I was not sure what to think about it so I did not really want to write about… Until now.
I have read a few things about the new uniform. I have seen the BSA's information about it. I have seen the pictures of it. But only recently have I made up my mind about it. And that is only after talking to Jerry at The Scoutmaster Minute.
To tell the truth, I think it is time for the uniform to change. I did not have a problem with the current shirt, but even this 48 year old thought the current uniform pants and socks were dorky looking. Plus, the shorts were designed horribly, in my opinion. I have not worn the official shorts or pants since the 2001 National Jamboree. The new uniform looks like it should be a lot more comfortable and that it will wear better on troop functions. The right sleeve pocket looks like an interesting idea, but I wonder how many times it will get sown shut. The new cap will not look like a target sitting on a Scout's head.
Fred Goodwin has found an article in the Dallas Morning News that talks well of the new uniform, and also quotes a couple Scouts on how they feel about it. You can check it out at http://tinyurl.com/5lm7pz .