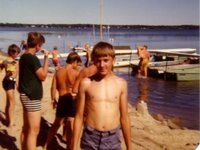 Yes, I was a Boy Scout. For three and one half years I was a member of Troop 68 in Melrose, Minnesota. The troop had about a dozen members or so, divided into two patrols, the Falcons and the Cougars.
I am the oldest of three brothers. My brothers were Cub Scouts. Unfortunately, when I was Cub Scout age there was not an active pack in town. However, I did get to participate in a couple Webelos den activities with my brother Dan. At the time I wished I could be a Scout.
About the time when Dan's den was ready to graduate into Boy Scouting a troop was formed in town. I joined the troop right away. I started out as the oldest member of the troop at 13 years old. The rest of the troop members were 11 or 12 years old. It did not take long for me to become the senior patrol leader, a position I held for most of the years I was in Scouting.
I have forgotten more about my time as a Scout then I remember. I am sure there are a few things best left unremembered. But there are also a few things I will never forget.
I remember going to summer camp for three years at Parker Scout Reservation. Two of those years were spent at the Bear Skin campsite. We (all the campers) would sing songs before supper in the dining hall. I earned pioneering merit badge although I had a lot of trouble trying to learn how to splice ropes. I saw a skunk and it's little ones for the first time as it crossed the trail on my way back to the campsite. I remember one afternoon when my fellow troop members and I sat in a tent and discussed things that were important to us at the time, including the existence of God. I remember one patrol event which involved getting the patrol up into a tree as fast as possible. Friday night campfires were great, and my troop even performed a skit at one which involved Dracula, the werewolf, the mummy, and Frankenstein's monster, but I don't remember what it was about anymore. In other words, I had fun at summer camp.
One year my scoutmaster wanted everyone to wear his uniform to school for Scout Day. At the time, I was the only student in the high school who was a Boy Scout. I knew I would be the only boy in school wearing that uniform, but I wore it because I was proud to be a Boy Scout.
I prepared myself for the snide comments I expected to receive in school, but they never came. No one made fun of me and my uniform, at least not to my face. In fact, I had people asking me about the patches on my shirt and what they represented.
As the scoutmaster of that same troop today, I do not ask the boys to wear their uniform to school. Society has changed somewhat during the last 30 years. But you know, when you stop and think about it, Scouting is as much fun today as it was back then. Don't cha think?