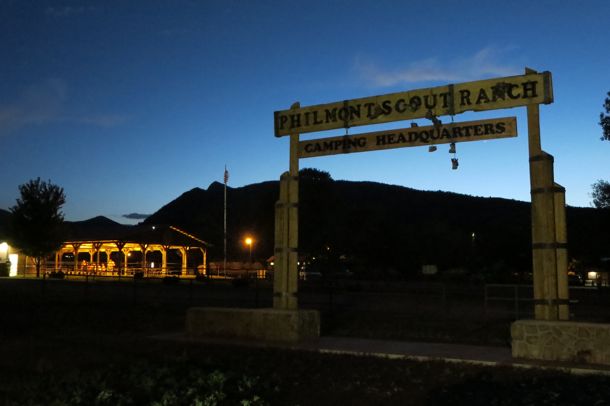 When I was at the Philmont Training Center for a week last June, I gave my camera quite a workout. I think I came back with around 900 pictures from the trip. That is a lot, even for me. I remember my first trips to Philmont for 10 day backpacking treks in the 1980's when I took 150 photographs and thought that was a lot of photos. Just goes to show the difference between film and digital technology I guess.
Almost every night during my stay at PTC I would wonder on over to the Philmont Base Camp and look around, take a look through the trading post, and maybe stop by the snack shop for a bag of popcorn or an ice cream cone. One evening I decided to play with the camera and see what kind of night shots I could take. Would this simple point and shoot Canon camera take good pictures when there was little light? I was going to find out.
I was pretty happy with the pictures. So was Bob, the district executive from our council who also went to PTC that week. I thought it might be fun to share the pictures with you so I posted 14 of them to a Flickr album for you all to view. Check them out and let me know what you think of them. The link can be found at
https://www.flickr.com/photos/stevejb68/sets/72157645252031607/  .