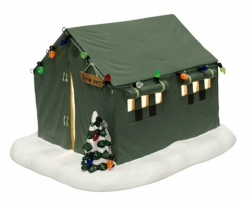 Remember last year? Scout Shops around the country and scoutstuff.org sold the first(?) three pieces of the Scouting Village collection. Those pieces were the Ranger's Cabin, the Camp Chapel, and the Trading Post. I never heard anything whether this was the start of a new yearly collection or if this was a one year deal, and the folks at my local Scout Shop could not answer my question either.
I decided to buy the collection anyway. At least I tried to buy the collection. By the time I decided to do it my council Scout Shop was already out the the Trading Post, but I bought the Chapel and the Ranger Cabin thinking I could by the Trading Post online. When I got home I went to the website and discovered they had sold out of the Trading Post. I called back to the Scout Shop to ask if they would be getting more Trading Posts in stock. They said they would try.
The story ends sadly. I never received a Trading Post. I almost returned the other two pieces since I would not be able to complete the set, but for some reason I kept them. And to tell the truth, I forgot about them. Until today.
I received a comment today on last year's blog post of my village dilemma. Debora wrote to tell me that the Trading Post has reappeared on the scoutstuff.com website, so I went there to check it out. Sure enough, there it was. I would be able to complete my set. And I discovered something else. There are more pieces this year! That's right, there is a 2013 Scouting Village collection.
It looks like accessories are the theme for this year's collection. There is a snow covered bridge, and a set of pine trees. There are two sets of people/Scouts figurines: Scouts On A Fence and Campfire And Rowboat. There is only one "building" this year, and it is not really a building but it is something you need if you are going to have a Scout camp – the lighted BSA Wall Tent. The accessories and people figurine sets are $5.99 each. The wall tent is $14.99.
I know that I will be ordering the Trading Post, but should I order this year's collection? I am leaning toward buying one of everything, but I almost feel like I need to buy two or three wall tents to make a campsite setting. That is maybe the reason they only put out one lighted piece this year. They want us collectors to buy several tents! The least they could have done is to make two different looking tents so there would be a little variety when everything is set up for the holidays.
I am never satisfied, am I?
What do you think of the new 2013 collection? Will you be purchasing them?