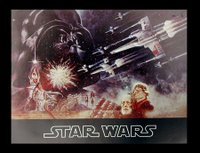 I was sixteen years old when I saw the full page newspaper ad for a new movie about to be released. The ad was a great piece of artwork. It created a desire in me to see this movie as soon as possible, which surprised me because I had seen a couple of production artwork storyboards a few months earlier in a magazine which did not impress me at all. The movie? Why "Star Wars", of course. The only movie to really make an impact on my life.
I saw the movie for the first time at the Paramount Theater in St. Cloud, Minnesota. The Paramount had the largest screen of any theater in central Minnesota in the summer of 1977. I will never forget the feeling of watching the seemingly endless star destroyer flying across the scene in the opening shots of the film. It was awesome! I had never seen anything like this before.
I was totally enthralled by the story, the characters, and the special effects. In less then two hours I had become a Star Wars fan for life. I had become a Star Wars geek.
It did not take long before the collecting began. I started with newspaper ads and articles. It soon expanded to comic books, toys, and action figures, as my spending money would allow. I have amassed quite a collection over the last thirty years. It dominates three rooms of my house and contains over 500 action figures, countless other toys, and a lifesize statue of Anakin Skywalker in podracer gear. I have seen the original movie over 11 times in the theater and countless times on video and television.
What do the Boy Scouts of my troop think about my Star Wars collection? Most of them think it is cool. Several think I am weird. A couple probably think I need need treatment. All in all though, it has been great to share my Star Wars experience with them. It gives us a common subject to relate to outside of Scouting. When it comes to Star Wars I will always be that sixteen year old awestruck teenager.
Just how obsessive about this movie am I? On a scale of 1 to 10, I would give myself a six. Yes, I do have a large collection of Star Wars memorabilia. However, I do not know all the words to every Star Wars movie. Nor do I dress up like the characters when I go to theaters to see the movies.
A fan of Star Wars? Definitely! But I am more a fan of Boy Scouting. Scouting takes much more time in my life, and more dedication. While I may have more materials things relating to Star Wars, Scouting is the thing that is closer to my heart.
May the force be with us all… in Scouting.