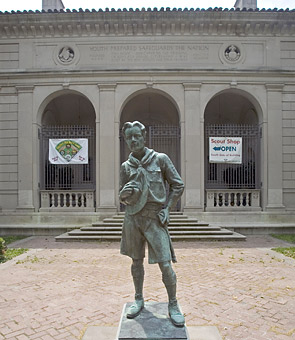 The trial is over. After seven years of court battles the trial about wether the Cradle Of Liberty Council, BSA, can stay in the building they paid to have built and pay for the yearly costs, has come to an end. (If I understand correctly, the council has always paid the maintenance costs of the building on the land they rent from the city for $1 a year.)
It appears that the Boy Scouts have won. According to the philly.com website:
"A federal jury Wednesday decided that Philadelphia violated the Boy Scouts' First Amendment rights by using the organization's anti-gay policy as a reason to evict them from their city-owned offices near Logan Square."
The full article can currently be read at http://www.philly.com/philly/news/breaking/20100623_Federal_Jury_Decides_in_Favor_of_Scouts.html?submit=Vote&oid=1&mr=1&97011914=Y&cid=8500281&pid=97011914
So, does this mean it is over? I doubt it. It sounds like the city of Philadelphia's lawyers are already looking toward their options for the next round of legal battles.
I find it simply amazing that when you consider all the good that Scouting has done for that community, and how that building has not cost the city a dime to build and maintain, and how the city has so many other pressing problems to take care of, that they spend so much time, money, and resources to trying to evict the Boy Scout council. Scouting has been such an asset to Philadelphia. Seems to me like the city has received quite a bargain from the Cradle of Liberty Council.
It does not make much sense to me. I guess that is why I am not in politics. Wouldn't it be great if some rich supporter of Scouting would just buy the property and donate it to the council?