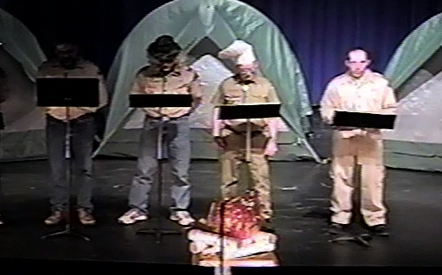 If you have been watching this blog and podcast for awhile you have seen many skits and songs performed by the Boy Scouts of Troop 68, but you have seen very little performed by the troop's adult leaders. Well, the time has come. With episode #88 of the Melrose Scouting Productions Podcast you are about to see something that only people from Melrose have seen before.
Boy Scout Troop 68 was doing very well in 2001. There was over 30 Boy Scouts and a lot of adult leadership. This leadership formed their own patrol for troop camping trips and outings. They named their patrol the Jedi Patrol. Their patrol call was "Do, or do not. There is no try." They even had a patrol flag. Of course, this was all designed to set an example for the other patrols, but the adults did have fun with it while it lasted.
During the troop's 2001 Laughs for Lunch Show, the Jedi Patrol decided to participate and sing a song. What would they sing? Was there any question? It would have to be Weird Al's spoof on Lola, which he named Yoda. The patrol practiced a couple times. Most of them knew the melody, but there was not enough time to memorize the words so they would carry music stands onto the stage. The rest is history.
Can the members of the Jedi Patrol sing? Can they do it in harmony? Do they mess it up? Watch the video podcast and decide for yourself.
Click here to DOWNLOAD and watch this Podcast
Subscribe to Melrose Scouting Productions Podcast through iTunes.
or at http://feeds2.feedburner.com/melrosescoutingproductions
Check out other Scouting podcasts at PTC Media.