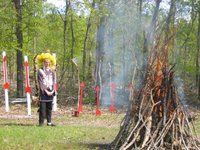 Three members of Melrose Boy Scout Troop 68 attended the Naguonabe Lodge Spring Conclave at Parker Scout Reservation in May of 2006. I was along for the ride to provide moral support, transportation, and to capture the weekend in photos. The three newly elected candidates did very well during the weekend, working hard, and passing the "tests". The ate well at the Saturday night feast and met many fellow Order of the Arrow members. All in all, it was a great weekend.
Once I arrived back home I did what I do so well. I downloaded the pictures from my camera to the computer. Turns out I had taken quite a few during the weekend. During the next few days I thought about turning the pictures into a slide show but could not quite decide on what music to use. I finally decided to use a song from Steve McDonald's Sons of Somerled album called Celtic Warrior. It was a great fit.
The video has been on Youtube since October, 2006. It has received nearly 1800 views since then, mostly by Order of the Arrow members, I believe. It has also created a small controversy which is something I did not expect. Because there are a few pictures from the ordeal ceremony several OA members from around the country thought I should remove the video from Youtube. Other members claimed that nothing was given away by the pictures unless you knew what happened during the ceremony. I agreed with the later comment and left the video on Youtube. Besides, most of the secrecy about the OA is no longer a secret.
Well, this video is the next installment on the Melrose Scouting Productions Podcast. You can view the video here. Watch it, and see which side of the camp you fall on.