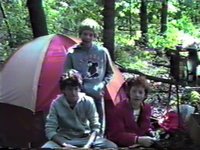 In the mid-1980's Troop 68 began camping on 40 acres of private land north of Melrose. After a couple years the owners of the property allowed the troop to start developing campsites near a pond on the south end of the land. The campsite soon received the name Camp Watchamagumee, a name made up by one of the Scouts in the troop.
In 1987, the troop was still working on various parts of the camp. A council-style campfire ring had been started, three campsites had been cleared, and the adult's site had been created on top of a hill overlooking the camping area. The adult's site was named Bunker hill because the older Scouts and former troop members had built a small "bunker" there that contained a homemade bunk bed. (That bunker only lasted for a couple of years, but the hill has retained that name. It is still the adult leader's site.)
If you have seen the camp food fight video on Youtube or the troop's website then you are already familiar with this weekend. With this video, which is an exclusive to this website and podcast, you get to meet many of the Scouts who attended that weekend and discover what they think about Scouting. It is a great video of boys enjoying Scouting.
This video was edited from an old VHS tape which contained a show called "Silly Troop Tracks" that was aired on Mel-TV3, the local television access station. I wish it was better quality but it is what it is and there is nothing I can do about it. So, sit back, download it, and enjoy the video.