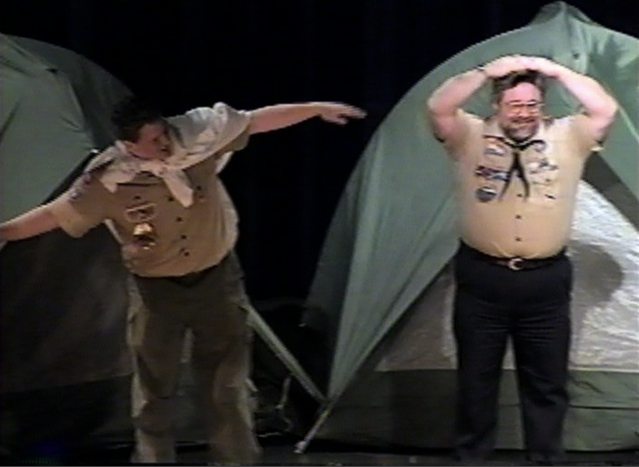 For thirteen years the Boy Scouts of Troop 68 held an annual show they called Laughs For Lunch. It was a campfire-style show featuring various songs, skits, and stories. The shows made the new Scouts nervous because, for most of them, it was their first time on stage in front of an audience. The older more experienced Scouts loved performing in front of the crowd and getting the laughs. We usually tried to keep the younger Scouts in groups when they were onstage but the older boys would get the chance to perform a skit or song on their own. This video post to the Melrose Scouting Productions Podcast features one of those skits.
Andy may have been shy were he joined the Boy Scout troop but he soon became one of the guys who loved to ham it up on stage. In this video from the 2001 Laughs For Lunch Show, he plays the artist Vincent Van Go-Go who plans to create a living sculpture on stage using people from the studio audience. He soon has both young and old people on stage portraying trees, rabbits, birds, and other things from nature. I am sure you will enjoy watching it.
Does your troop have fun performing in front of an audience? Have they ever done this skit? Tell us about it by leaving a comment.
Click here to DOWNLOAD and watch this Podcast
Subscribe to Melrose Scouting Productions Podcast through iTunes.
or at http://feeds2.feedburner.com/melrosescoutingproductions
Check out other Scouting podcasts at PTC Media.