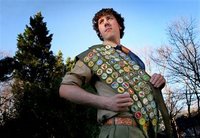 Here is a great story from MSNBC that you should read. It features Boy Scout, James Calderwood, who has attained all 122 merit badges. When only two to four percent of all Scouts ever reach the rank of Eagle Scout, finding a Boy Scout who attains all the merit badges is a rare thing indeed. You can read the article at:
http://www.msnbc.msn.com/id/17902427/
(The picture is from the MSNBC article.)
Update – The article has been removed from the website.