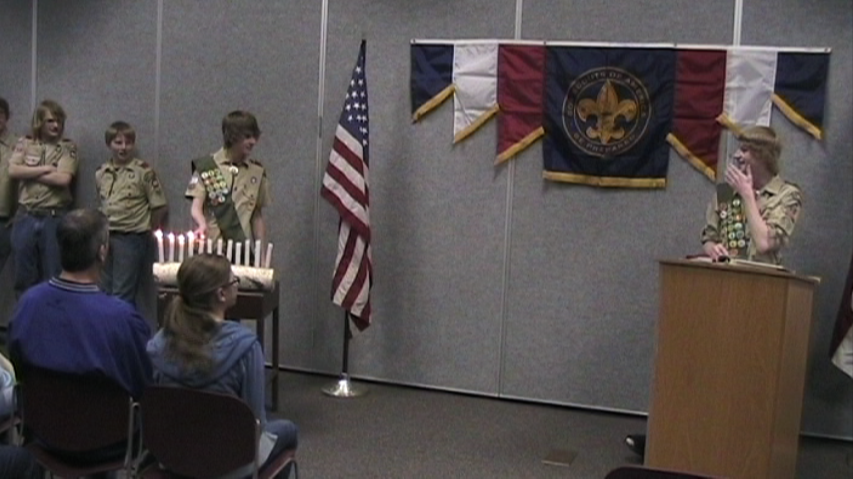 Melrose Boy Scout Troop 68 holds four courts of honor per year. We begin with an opening ceremony, followed by the presentation of year pins and merit badges, a short entertainment spot by the Scouts, recognition of Scouts who have earned a rank, and finish with a closing ceremony. Refreshments and announcements wrap up the evening.
Our court of honor ceremonies usually consist of three parts: something patriotic, something Scouting, and an invocation. It is a nice solemn beginning to the meeting. Once in awhile though, the boys get into one of those moods. You know, the giggles begin, or something goes wrong. Unpredictability reigns.
The opening at our March court of honor started well, but the little things soon started. The snickering began. The Scouts had decided to do a Scout Law candle lighting ceremony. Boy Scouts. Matches. Candles. The Scout Law. And that the movie playing in the next room was loud enough for us to hear easily in our room. You can probably guess what happened. If not, you can watch this post to the Melrose Scouting Productions Podcast to see it for yourself.
Has your troop ever had an opening or closing ceremony go slightly astray? Share it with us by leaving a comment below.
Click here to DOWNLOAD and watch this Podcast
Subscribe to Melrose Scouting Productions Podcast through iTunes.
or at http://feeds2.feedburner.com/melrosescoutingproductions
Check out other Scouting podcasts at PTC Media.