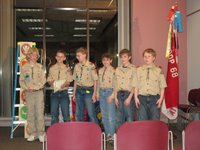 Boy Scout Troop 68 of Melrose held it's first court of honor of 2007 on Monday, March 26, at the Melrose City Hall meeting rooms. Over seventy percent of the troop's membership received awards during the celebration. The award ceremony began the presentation of the colors and the Pledge of Allegiance. The "Climbing the Ladder To Eagle" opening was followed by the invocation given by the troop's chaplain Eymard.
Senior patrol leader Dakota and Scoutmaster Steve welcomed the troop's newest members, Kyle and Lucas, and their parents by presenting the boys with the Scout Badge. Lawrence and Zack were awarded their one year anniversary pin. Dakota received the Citizenship in the Community merit badge.
A brief entertainment skit, based on the show "Who's Line Is It?" television series, was enjoyed by the Scouts and parents in attendance. Mike, Dakota, Alex, and Jonah did a great job adlibbing to the three scenarios that were given to them.
Six ranks were presented during the court of honor. Avery, Billy, and Lawrence received Tenderfoot, the first of the six Scouting ranks. The second rank, Second Class, was presented to Zack and Jonah. Dakota earned the Star Rank, the sixth of the BSA ranks.
Scoutmaster Steve had a special announcement. Chris' Eagle Scout application was approved by the BSA national office. Chris is the seventeenth Boy Scout of the current troop to achieve the rank of Eagle Scout, Boy Scouting highest award. Chris is the eighteenth Boy Scout in the history of Melrose to earn the award.
The Progressive Scout Award, a Troop 68 award to recognize the Boy Scout who has achieved the most advancement since the last court of honor, was presented to Dakota. The Progressive Patrol Award was earned by the Nighthawk Patrol who had five members who earned their next rank in Scouting.
The leadership of Melrose Troop 68 would like to congratulate all the Boy Scouts who received awards during the court of honor.