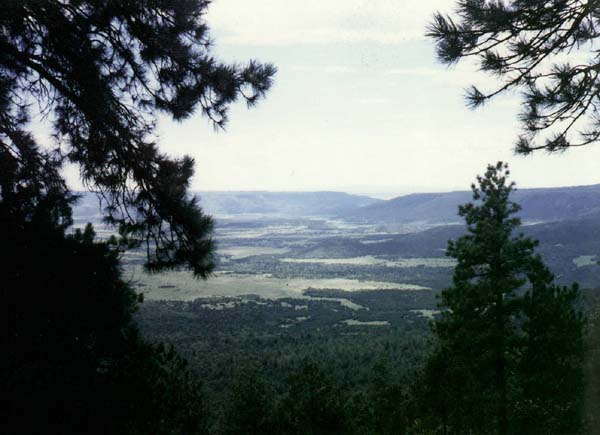 Greg, our ranger,  left our crew today, August 7, 1986. Before he left he had us sit along the ridge line that overlooked the valley and talked to us about how Philmont is able to stay beautiful and bountiful. He described some of the ways the camp staff preserves the wilderness for future crews to enjoy. He told us of what we must do to preserve the beauty and splendor of the Philmont wilderness, and not mess it up for the others who would follow our tracks. Then, he had us take the Philmont Wilderness Pledge. The pledge states:
"Through good Scout camping, I pledge to preserve the beauty and splendor of the Philmont wilderness.  I commit to: a litter free Philmont; and absence of graffiti; conservation and proper use of water; respect for trails and trail signs; proper use of campfires."
After the crew reviewed the pledge, and understood what each of the parts meant, we accepted it. Greg signed the pledge cards as our ranger, and gave them to us to sign and keep. He then left us to experience the rest of the trek on our own.
That was over 23 years ago. I have returned to Philmont four more times since that first trek, the latest in 2004. I am amazed each time how little the country has changed, even though tens of thousands of campers hike the backcountry every year. The Philmont Wilderness Pledge works very well.
Now, if we could get everyone who attend our national parks to follow the same guidelines…