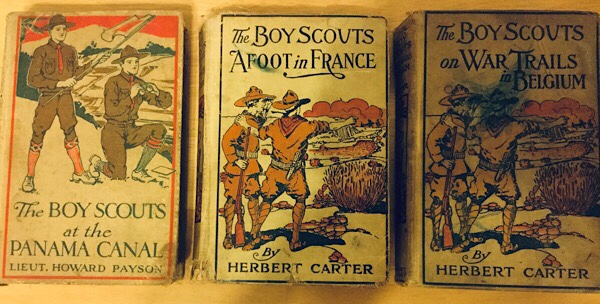 I began collecting Scouting themed books soon after becoming a Scoutmaster in the early 1980s. I collect handbooks, leadership books, history books, and the fictional novels that were written in the 1910s and 1920s. After 35 years of collecting I would say I have a very nice collection.
The old Scouting themed fictional novels written a hundred years ago have a special place in the collection. I love finding those old books if they are in decent condition. It can be a challenge to find these old books that are still in one piece. I don't think anyone really thought they were meant to last more then a generation or two so when I find one, at a reasonable price, I like to buy it.
I recently saw a post on a Facebook group called Scout Patch Collectors. It is a great group for trading and buying Scout patches. Once in awhile other Scouting memorabilia is posted. Last week I saw a post featuring three of the old Scout novels for sale. While they looked a little frayed around the edges I noticed they were three books I did not have in my collection.
The Boy Scouts at the Panama Canal, written by Lieut. Howard Payson, was published in 1913. The other two books were written by Herbert Carter. The Boy Scouts Afoot In France was published in 1917. The Boy Scouts On War Trails In Belgium was published in 1916.
After a few messages back and forth between the seller and myself I agreed to purchase the books for a price we both agreed upon. Since I was buying the books based on the one photograph posted I hoped they would not be in terrible shape.
The books arrived last Saturday. The covers are in decent shape, showing a bit of wear which is to be expected. The covers are coming loose but a little glue will take care of that. Two of the books have a loose page in the front of the book, but at least the page is still with the book. Otherwise, the books are in decent shape for being one hundred years old.
Two of the books have handwriting inside the front cover. I think one was a gift to a young man. The other book I believe has the owner's name written on the first page. This does not bother me in the least. I think I adds a little character and history to the book.
I am going to have to rearrange my book cabinet to make room for these three new additions. While they may not be in great shape they do fill in three holes in my collection and I am glad to be able to add them.
Do you collect old Scout themed novels? Which ones do you own? Leave a comment below.