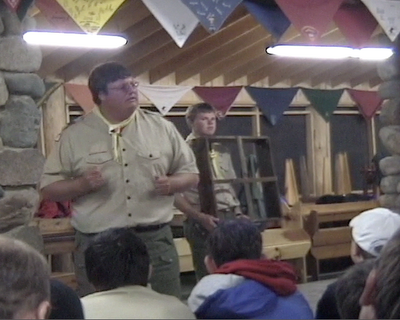 Boots Hanson was the first caretaker of Many Point Scout Camp. In fact, he and the other council leaders created a new style summer camp in which Boy Scouts would camp together with members of their own troop. His hard work and great love of the outdoors and Scouting brought this new idea to reality. According to the Many Point Alumni website (http://mpalumni.nsbsa.org/lanternslight/SU1991.pdf):
As the Chief Ranger, Boots came to have a unique and uncommon understanding of the function and purpose of a Scout Camp. This he fathomed better than most and even better than many Professional Scouters. He recognized that the purpose of a Scout Camp was much more than badges and awards, swim meets and canoe trips, campfires and ceremonies. He understood, in his quiet way, that the primary purpose of a Boy Scout Camp was to offer the troop and its leaders an experience in the daily chores, cares and joys of shared Troop Community living which would prepare them for an even richer Scouting experience in the Troop Room back home. From this Scouts would glean the skills and values needed for contributing citizens as adults. Every nail pounded, every campsite cleared, every trail and road built was done with this in mind.
Every week at Many Point Scout Camp, during the opening campfire, the camp director tells the story of Boots Hanson and the meaning of the red lantern, an icon at camp. In this 2007 video Kevin, the director of the Buckskin Camp, tells the story to the new campers in the dining hall. (It was raining that evening.)



Click here to DOWNLOAD this podcast.Subscribe to Melrose Scouting Productions Podcast through iTunes.
or at the RSS feed: http://feeds2.feedburner.com/melrosescoutingproductions
Check out other great Scouting podcasts at PTC Media, including The Leader's Campfire and Around The Scouting Campfire.