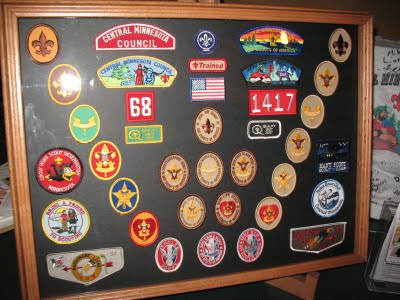 February 8, 2010, marks the 100th anniversary of the Boy Scouts of America. This year is also the 30th anniversary of Melrose Boy Scout Troop 68, of which I am the scoutmaster. We usually set up displays around town during Scout week so I have some serious work to do in the next couple of days.
Four local businesses have given us permission to place exhibits about Scouting in their lobbies: Central Minnesota Credit Union, Freeport State Bank, US Bank, and the City of Melrose. Each display is designed to fit on an eight foot long table. The displays include literature, books, patches, memorabilia, and photographs.
During the last patrol leader council, we discussed themes for each of the four exhibits. We wanted a different one for each place so people would get to discover more about Scouting. Besides, I do not have enough stuff to do four displays of the same theme. This year's themes are:
High Adventure – This will highlight the BSA's high adventure bases but will concentrate on Philmont Scout Ranch. It will include mugs, plaques, posters, and photo albums.
National Jamboree – Since this is the year of the National Jamboree we added this as a theme for one location. I attended the 2001 Jamboree as the scoutmaster for Central Minnesota Troop 1417 so most of the display will feature items from that trip, including the uniform and tee shirt, photo albums, patch collection, and a new shadow box with various memorabilia.
Scouting History – I have collected quite a bit of Scouting memorabilia during the last thirty years and some of it will find its way into this display, including a 1932 Boy Scout handbook and fictional novels from 1911. Last night I put together a shadowbox featuring Boy Scout rank patches from the 1980's, the current patches, and the special 2010 anniversary rank patches. (See the picture above.)
Boy Scout Troop 68 – This will probably be the largest of the exhibits since I have collected the most on this subject. The hardest part will be deciding which of the thirty photo albums will be a part of the arrangement.
The displays will be set up this Friday and Saturday. Each of the businesses is allowing the exhibits to be in place for two weeks. I have been told that past displays have been popular, especially the photo albums. I will take photos of each of the displays and post them online for you to see. Check back to this blog for an update with the link.