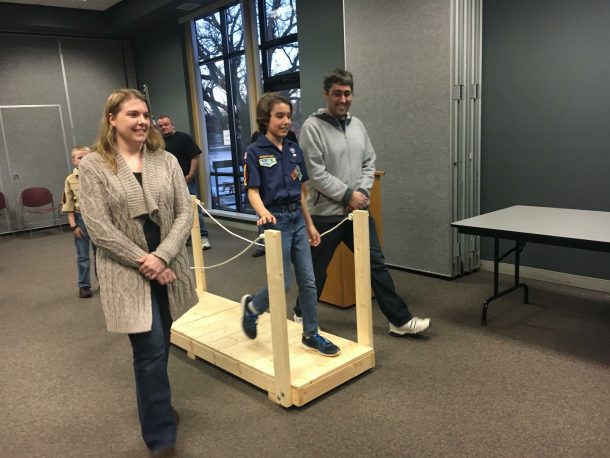 When I retired as the scoutmaster of Troop 68 at the end of 2011 we only had a membership of 8 or 9 boys. The Cub Scout pack was also going through a tough time. There had been several years that we did not have any Webelos Scouts graduate into the Boy Scout Troop. Luckily, both groups survived and began to turn things around.
This year marks the second year in a row that the troop had Webelos graduate into Boy Scouting. The ceremony was held at the Melrose City Hall meeting rooms on Tuesday, March 27th. The Webelos Scouts were grinning from ear to ear as they crossed the bridge and joined the troop, taking their first steps in a new Scouting adventure.
The newly formed Ninja Patrol has already grown to four members. They have been having a blast as new Boy Scouts. They already have a disc golf marathon under their belts and went to the Central Minnesota Ripley Rendezvous at Camp Ripley in central Minnesota this weekend. In May they will have their first real camp out as a Boy Scout when they go to Camp Watchamagumee. Most of them have already signed up for summer camp in July.
The boys have quickly discovered the Boy Scouting is a far different program than what they had when they were Cub Scouts, and they seem to be loving every moment of it.