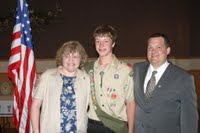 Let's face it. Earning the rank of Eagle Scout is a very big deal. Only 4% or so of all boys in Boy Scouting earn the highest rank offered in the program. So what do you do for an encore? Well, if you are from Minnesota, and your name is Ben Lindbom, you get on your snowmobile and set your sights on winning races.
Ben Lindbom has been racing snowmobiles since he was 13 years old. He took second place in his first race, and has been going strong ever since. Been is currently competing in the International Series Of Champions Tour which will take him to several locations in the upper midwest. He is currently positioned top ten in the standings. Not bad for a young man from Staples.
A few months ago I was contacted by Ben's family and asked if I would feature Ben in one of my blog articles. His father, David, sent me some information about Ben, including a video they had made in which Ben talks about racing and Scouting. After viewing the video I thought it would make for an excellent post to the Melrose Scouting Productions Podcast. The Lindbom's liked the idea and gave me permission to use it. Ben does an excellent job of talking about Scouting and his love of racing, so there is really not much for me to write. Watch the video!
Check out this month's Boy's Life magazine. Ben is featured in the January issue.