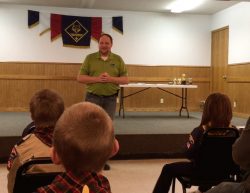 Wow! Has it really been over three years since I have done a Melrose Scouting Productions video podcast? I guess it has. The last one was posted on December 1, 2014. I think it is time to do something about that.
On Tuesday, February 27, 2018, the mayor of Melrose, Joe Finken, attended the annual Cub Scout 68 Blue and Gold Banquet. After the meal, but before the award presentations, Mr. Finken was invited to come forward and say a few words to the Cub Scouts. He gave a nice talk which focused on teamwork. He spoke well and had the Scouts' attention the whole time. With this podcast we would like to share Mayor Finken's talk.
Click here to DOWNLOAD  this Podcast.
Subscribe to the Melrose Scout Productions Podcast
at http://feeds2.feedburner.com/melrosescoutingproductions
or through iTunes  (Please take time to rate the show).
Leave a comment below, or at the iTunes store.