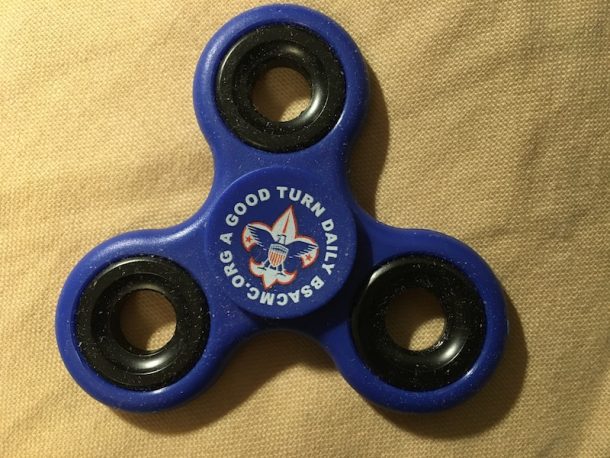 Every year, the Central Minnesota Council seems to offer an incentive to the boys who join the local Scouting pack during the School Night to Join Scouting meeting. This meeting is traditional held the third Thursday of September. A few years ago the new members received a rocket. Last year they were given a frisbee with the B.S.A. logo on it.
This year's prize was sure to make every teacher in Central Minnesota happy. Yes, you guessed it. This year's incentive was one of those spinners which was so popular with elementary boys. This fidget spinner was blue in color with the B.S.A. logo in the middle of it.
I have to admit, the boys who came to school night all seemed excited about receiving the spinner. Even the current Pack members who came to the meeting wanted one of their own. The parents did not seem to be quite as excited as the boys. The current Scouts could buy one for $5.00 each.I believe most of them did go home with one. I went home with two. One for my Scouting collection, and one for a friend of mine who lives in Arizona.
Does your council offer an incentive to new Scouts on School Night? What was it this year?