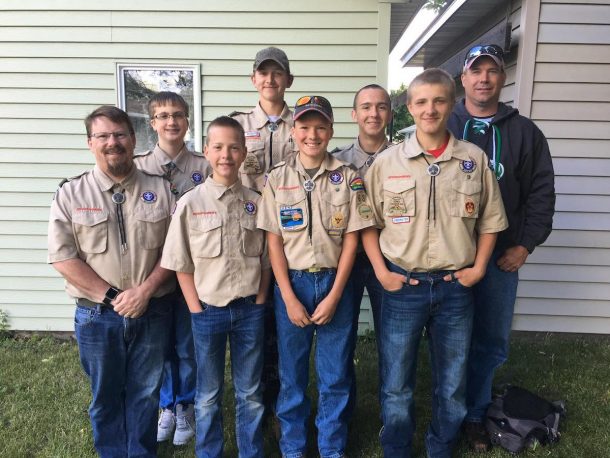 Six Boy Scouts of Melrose Troop 68 are now attending summer camp at Many Point Scout Camp in northwestern Minnesota. They left Sunday morning with Scoutmaster Dave and Jason, a father of one of the Scouts. They were all pretty excited about going to camp again. The older Scouts are hoping to get to spend a night in one of the two tree houses found at Many Point. (I found out earlier today that they would get their wish Thursday night.)
I am planning to go up to camp Thursday morning and spend the rest of the week with the troop. During every year that I was the scoutmaster I spent at least one week on a long term camp with the Scouts, either a week at summer camp or two weeks at a high adventure camp like Philmont Scout Ranch. I may not be the scoutmaster anymore but it just does not feel like summer if I do not go to summer camp for at least one day. I have to have fun for at least one day, if not two.
Unfortunately, I see the weather forecast says I may get a little wet once I arrive at camp but, oh well, that is a part of what camping is about. I will pack my Gore-Tex rain gear and umbrella, and make the best of it. It is not like it will be the first time it has ever rained while I was camping. And it probably will not be the last.