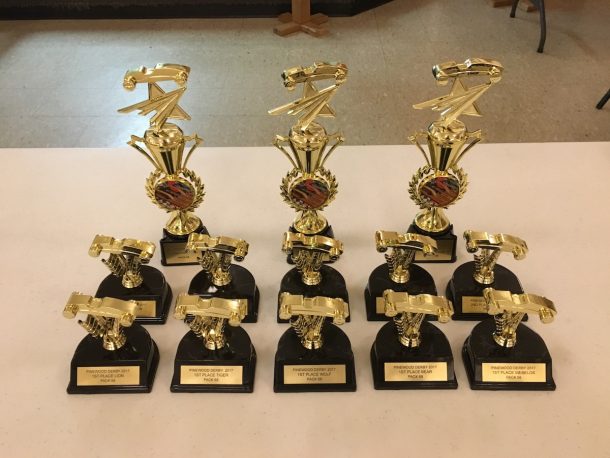 The Cub Scout Pack 68 Pinewood Derby is one of the highlights of the year for the Scouts. The boys and their parents work hard on their car designs. What will the design be? What colors should be used? Will it be fast enough? Could it receive "best of show"?
When I became the cubmaster of Pack 68 a couple years ago I decided to try to make the derby more fun than competitive. Yes, the pack did award trophies for first, second, and third places, but I wanted to make the derby more than just winning. I wanted to keep the fun in the derby.
For the last couple years we ran the derby as a double elimination. We have a two lane track. Each car had a chance to run a race on each lane in each heat. The best time would determine who moves up the bracket. The nice part was that each Scout was given a minimum of four times to watch their car race down the track.
That worked very well when we only had 17 Cub Scouts in the Pack. Last fall our Pack grew to nearly 50 Scouts. Most of them planned to participate in the derby. The double elimination plan of the past would not work well this year. It would take too long to conduct all those races.
The derby was a major topic at the committee meeting in January. Ideas were given and discussed before were decided on a derby suggestion based on how the council conducts their derby. This year's derby would be done by "dens". A first and second place would be given for each level, from Tiger Cub to Webelos Scouts. Each car would race twice per heat, once on each side of the track. The best time would move up the bracket as in past years. We would also try to use the computer program that came with the track for the first time.
We decided to award two Best Of Show trophies since the Pack had grown so large. We also decided to present one trophy for the overall fastest car in the Pack, based on time. In all, the Pack would award 13 trophies instead of the usual four. I thought this number would increase a Scout's chance to take home a trophy but after doing the math I discovered it actually remained near the same as the last two years, if all the Cub Scouts and Webelos Scouts participated.
Well, that January derby has been held and is now history. The plan worked out well and races moved along without much delay. The boys and their families had a good time. We even had a little time left over for the boys to race against other Scouts, their brothers, and in one case, his father. It was a good day and I went home pleased.
How did your Pack's Pinewood Derby go this year? Leave a comment.