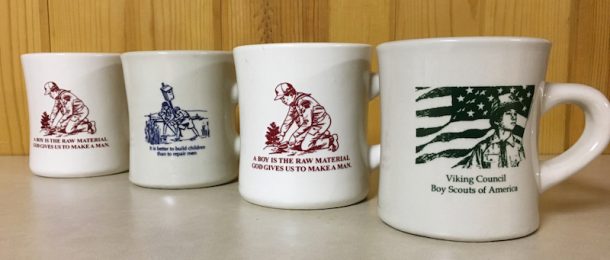 I collect Scouting memorabilia. That includes a collection of coffee mugs. Sometimes I forget what I really have in the collection so I was a little surprised to discover something the other day.
I am a member of a few Scouting groups on Facebook, including a brand new group called Boy Scout Collectables. The group was created by a member of the Scout Patch Collectors page after a discussion started that a group was needed for things other than patches. The new group has grown slowly and has about 21 members as I write this. I have a feeling it will grow as the word gets out.
Since this is a new Facebook group I decided to share a few of the things I have collected with the members. I decided to take a picture of these coffee mugs since they had a cool Scouting caption and picture on one side. I was surprised to discover the Viking Council logo on the other side. Since the Viking Council of Minneapolis no longer exists I guess they have really become a bit more collectable.
I invite you to join the Boy Scout Collectables group on Facebook and share your collection. It can be found at
https://www.facebook.com/groups/323868214332022/