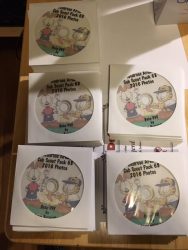 I bought my first digital camera in 2004 for a trip to Philmont Scout Ranch. It was great! I was able to take many more pictures than I would have with a film camera. It was very easy to share the windows once we returned home. Every participant of the trek received a disc with the photos allowing them to print whichever photos they wanted to for their own photo albums.
A tradition began with that trip. At the end of the year I would burn compact discs with all the photos I had taken during the year at troop meetings, courts of honor, and troop activities. Each Boy Scout received a disc of photos for Christmas. I also made slideshows of each troop event. I burned those videos to DVD's and gave one of those to each Scout. I would do the same thing of pictures taken at family events and give one to each of my family members at our Christmas gathering.
Even after I retired as the scoutmaster I continued the tradition of giving each Boy Scout a photo disc of troop events. When I became the cubmaster of Pack 68 I decided to do the same with the Cub Scout pack. Each Cub Scout received a photo disc, but I did not burn DVD's of sldieshows of pack events.
When I awoke last Saturday morning I realized I only had a few days before the Pack's Christmas party. It was time to make the photo discs. I would need to create a lot of discs. The Pack had grown from 17 Cub Scouts to 49 Scouts, including the Lion Cubs. I needed to make 50 discs. The pressure was on! The Pack's Christmas party is on Tuesday, December 7th.
I began working on the discs Saturday morning at 7:30. The first step was to go through all the year's photos, toss out the blurry ones, and sort them by date and event. Once I had a master file it was time to start burning the discs. Since the file was nearly 2.5 gigabytes I ended up use blank DVDs. I soon realized that one computer would not be enough. I set up a second older computer to also burn discs. I soon ran out of sleeves for the discs so I had to make a trip to the store. The discs I use are have a printable surface on them so I was able to print a nice picture on the discs along with a label. I finished the project close to 7:00 that evening, just before company arrived.
The Cub Scouts and parents seem to appreciate receiving the discs. I enjoy giving them. After all, it is a special gift that shares the memories of the year in Scouting. The Scouts and parents can look back on these photos for the rest of their lives.
Now it is time to start working on the discs for the Boy Scouts of Melrose Troop 68. I was able to burn the slideshows to DVDs on Sunday but I have not started on the photo discs yet. When those are done it will be time to start the family photo discs.
My computers are really going to get a workout this month.