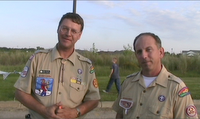 This post to the Melrose Scouting Productions Podcast is the third of four videos featuring the open house held by the Central Minnesota Council on September 2, 2009, to celebrate the "A Century Of Values" tour. Where the first two videos in this series featured the special RV that is touring the country and the presentation of the mural, this video features some of the other activities that were taking place on the grounds of the council office.
The video begins with a visit with two of the district executives having a little fun and racing cars at one of the activities. Then we spend a moment with the council executive as we watch the Cub Scouts ride a hot air balloon. One of the gentlemen touring the country with the "A Century Of Values" RV takes a moment to speak with us. The video ends with a magician performing a card trick for us.
More information about the
"A Century Of Values"
tour can be found on their website at
http://www.acenturyofvalues.org/
Also check out their blog and the post about their visit to the Central Minnesota Council. The road crew mentions that this was the largest crowd they had seen at a council event up to this point.