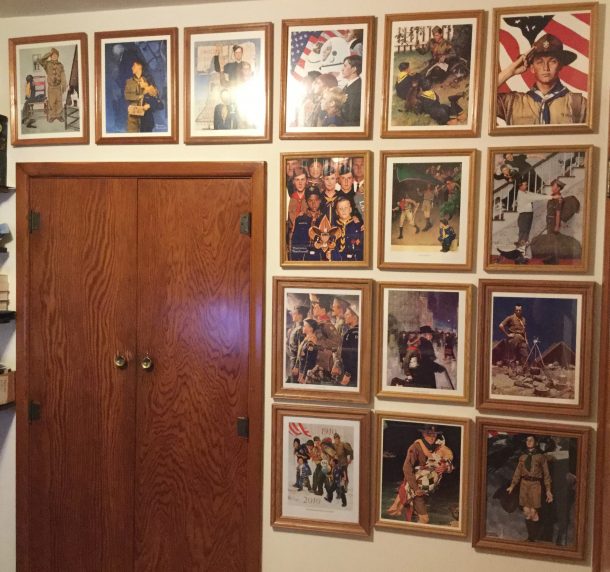 Many Boy Scout councils use incentives during their Friends Of Scouting campaigns. During the last several years, our council has used special council strip patches to entice donors to give a little more. Each year's patch features a different point of the Scout Law. Of course, since I collect patches, I am one of those people who end up giving enough to get the patch. Or two.
Before there were patches, our council used a different Norman Rockwell Scouting themed print each year as an incentive for the upper tiers of giving. These framed 11″ x 17″ prints were fairly popular. At least they were with me. I own all 15 prints. (I own doubles of a few of them after a family that used to be involved with Scouting decided to clean house and offered their collection to me.) Actually, 14 prints were of Norman Rockwell artwork. The one for 2010 used a painting by Joseph Csatari created for the 100th anniversary of the Boy Scouts of America.
All fifteen prints are found in my home office. The doubles I have on the wall of my office at work. Did I use these in Scouting displays as I did with the print sets I wrote about in the previous articles? Yes, I did, but not very often. After all, these are framed and contain glass, so I had to be more careful of were they would be used.
The photo shows the prints on the wall. They are hung in the order as I received them, from left to right, top to bottom. At least I am pretty sure that is the order. There have been a couple times they have all been off the wall so I may have a couple mixed up. If you don't tell anyone, I won't either.
Has your council ever used framed prints as incentives in its F.O.S. drives? How many have you collected? Leave a comment below.