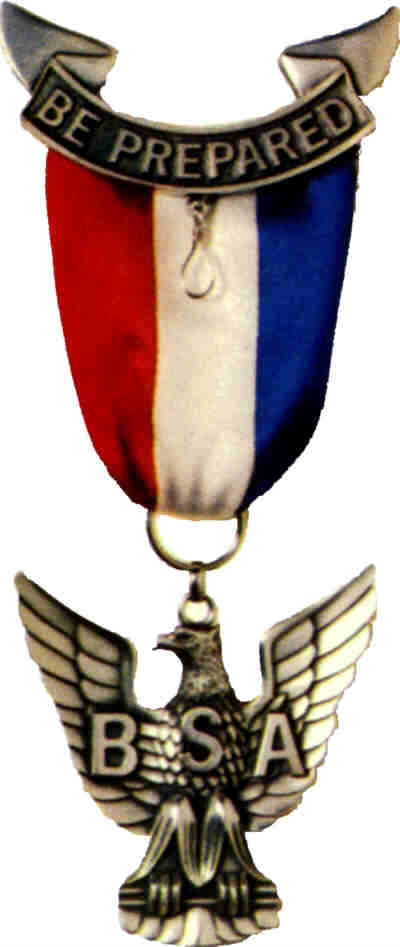 As a scoutmaster I did not plan any Eagle courts of honor. After all, that was not my job. The Eagle Scout plans his court of honor with the help of his parents. I did give advice and help a bit when asked, but I usually stayed away from the planning. That is not to say I was not involved in the court of honor. As a scoutmaster I often spoke about the Scout during the ceremony, and many times I was the presenter of the award. Since stepping down from the scoutmaster position I have served as the master of ceremony for one court of honor.
Monday night was the first time I found myself involved with the planning of an Eagle ceremony. The new Eagle Scout sat down with me, the assistant scoutmaster, and another Eagle Scout of Troop 68, and threw around various ideas as he decided on what he liked and did not like. Text messaging came in handy as he contacted a few people to see if they could participate in the ceremony. By the end of the meeting we had the agenda pretty well planned, and he seemed happy with the way it looked.
So why did I become involved in the planning this time around? Because the Scout has a short amount of time to get things organized. He is currently in college, working most nights, and to put it simply, is quite busy. His court of honor is going to be held this Sunday so yes, he needed some assistance getting things planned. I have agreed to be the master of ceremonies and his scoutmaster will be the presenter of the Eagle award. He does have a few people lined up to say a few words.
I have seen some fairly elaborate courts of honors over the last 36 years, and I have seen some simple ceremonies. This one will not be an elaborate one, and that is okay. Like I said at the beginning of this post, the court of honor is planned by the Eagle Scout to be the way he wants it to be. That is what matters. Too tell the truth, that is all that really matters. It is his moment and no one else's. I think Sunday's Eagle Scout court of honor will be a nice ceremony, and I am looking forward to being a part of it.