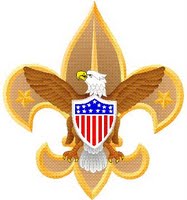 I was a scoutmaster for several years when I noticed that we had a number of Boy Scouts who would go along on many of the outings, but would not show up regularly for troop meetings, and would not take the time to earn their advancement. I talked to them. I encouraged them. But it did not make a difference. They would not put forth the effort to earn their ranks and merit badges.
As a scoutmaster, I feel it is important for a Scout to continue forward on his advancement. I do not expect every boy to earn the rank of Eagle Scout, but I do expect them to make a steady progress. While I am willing to work with the boys on some things, I believe the Boy Scout needs to take the responsibility to keep moving forward.
Out of my frustration came an idea. If a Scout did not earn a rank or merit badge within the last six months he would not be able to attend an outing until he did. Summer camp and high adventure bases would be excluded. I think I brought this up to the Patrol Leader Council before we began enforcing the "Those In Need Of Advancement" policy, which became known as TINOA. Any Scout on the TINOA list would not be able to go along on an outing.
Have you ever had an idea which seemed like a good one at the time, but it turned out not to be as good as you first thought? Have you ever had an idea backfire on you? Have you ever had an example of the Boy Scouts proving themselves smarter than you?
The TINOA policy actually worked fairly well for a couple of years. The boys began to work on their advancement a bit. After a while though, I began to notice that some of the older Scouts began missing quite a few activities. When I questioned them about it they replied, "Well, I am TINOA. I can't go on the outing." They had begun using the policy as an excuse to miss troop activities. They could use the policy to skip activities instead of using sports, families, friends, or girls as the excuse.
The policy had backfired. The troop soon dropped it and never brought it back. I have heard it said that the Boy Scouts of America has the program working pretty well and that we do not need to change it with addition requirements. TINOA was a good example of how you should not mess around with a good thing.