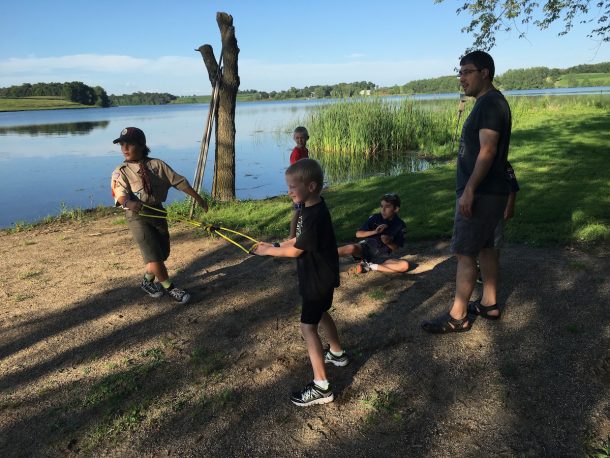 This is my second summer as the cubmaster of Pack 68. I have had a good time and have agreed to a third year in the position. The pack does not have meetings during the summer months but we do have a pack activity each month. I had the Cub Scouts come out to my family cabin which is located on Kings Lake for their July activity. Eleven of the 17 Cub Scouts attended the event.
The activity was held on a Monday night. It started at 6:30 in the evening and lasted until 8:30. We did not plan any swimming activities, but that does not mean the Cub Scouts did not get wet. One of the events had the Scouts filling water balloons and trying to hit a target using my water balloon sling shot (shown in the picture.) Some of the balloons busted while in the slingshot, spraying nearby Scouts with water. Some of the balloons became air bound without using the slingshot. The Cub Scouts did not mind. They were having fun.
The second activity was a disc golf putting contest. The pack was divided into two teams. Each team had several discs and tried to putt as many discs into the disc golf basket as they could. I started the Scouts a bit too far from the basket so after each round I moved them a little closer until the discs began landing in the basket. Some of the boys were asking what the winning team would receive. Another Scout stated correctly that they get bragging rights. Once again, the boys had a good time.
The last activity of the evening was to get out the marshmallows, chocolate bars, and graham crackers. We had worked up an appetite and it was time to make s'mores. I think this may have been the Scouts favorite activity. It did not take long for sticky fingers and mouths to be found around the campfire.
I want to thank the many parents for helping with the event. They assisted the boys as they filled water balloons, manned the slingshot, and helped the Scouts prepare the s'mores. Everyone stayed safe and had a great time. I bet they would all come back out next year if we do it again.