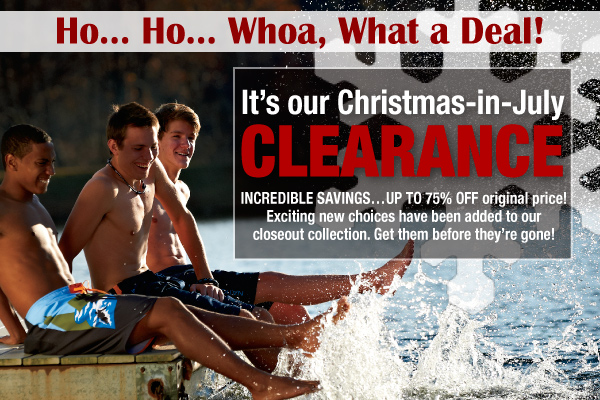 There was an email last week from the Boy Scouts of America Online Catalog. They had a sale going on. It was the Christmas in July Sale! Well, that is what they were calling it. It was actually a closeout sale. Here is what the email stated:
Think about it. There's back-to-school, back-to-Scouting, and the actual holidays just around the corner, so a little Christmas in July really couldn't hurt! 
Our gift to you? A chance to save up to 75% off original price on the best Scout-gear deals you can find… perfect year-round gifting ideas, nice little Christmas add-ons, and great-value gear updates for every Scout you know. 
Check out what's new in the closeout collection, online, and in-store today. Once items sell out they're gone, so shop now.
So what did I do? I checked it out. Was there anything the troop or pack could use? Was there any hot bargains I could use as gifts? Christmas is only 6 months away, after all. Was there anything I did not realize I needed or wanted until I saw it on sale?
As it turned out, there was quite that made the list. I found 12 items to add to the cart, several of them in more than a single quantity. I took a screen shot of the list and emailed it to my council Scout Shop. After all, I may as well give them the business if they had any of the items in stock. It turns out they only had four of the items on hand, but those four items (multiple qualities of two of them) would cost me over $80. Two items were for myself, one for the pack, and one to use as gifts. I emailed her a note that I would pick up the in stock items and would let her know about the rest of the list when I arrived to pick them up.
Have you checked out the Christmas in July Sale? Did you find anything you needed, or did not need until you saw it on sale?