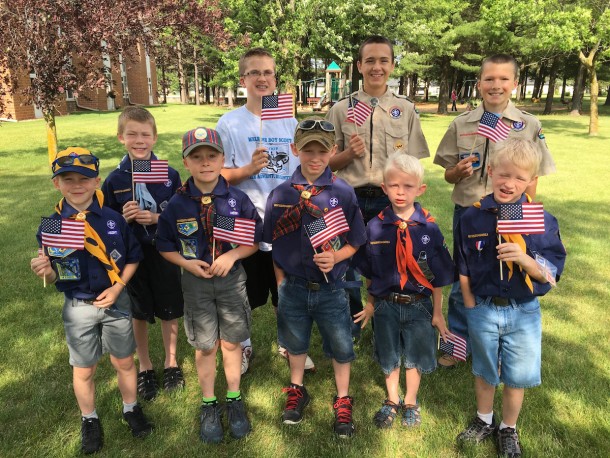 This year marked the eighth year that the Boy Scouts of Melrose Troop 68 have handed out 4″ x 6″ United States flags before the Riverfest parade in Melrose. Once again the Scouts walked along the parade route and gave away 1250 flags, curtesy of the Melrose American Legion. People love receiving them, from the youngest toddler to the oldest senior citizen. And they are better for you than all the Tootsie Rolls that are thrown out during the parade, don't you agree?
Last year we had a shortage of Boy Scouts attend the service project so this year we invited the Cub Scout to help out, hoping we would get enough Scouts to break up into four teams. The plan was to have two teams start on each end of the parade route, each team taking one side of the street, and meet up somewhere in the middle. Hopefully, by the time we would meet, we would be out of flags.
We ended up with plenty of Scouts. Six Cub Scouts and five Boy Scouts showed up for the project, in addition to five parents and Scout leaders. About 30 minutes before the parade was scheduled to begin, we split up and began handing out the flags. My team consisted of three Cub Scout brothers who were excited to participate in such a project. They were all smiles as they handed out the flags one by one, receiving smiles in return from the people who accepted them.
My team was starting to run low on flags by the time we met up with the Scouts who had started at the other end of the route. They still had a few hundred flags due to many people not being seated yet for the parade as they walked by. I had noticed a lot of people coming in after we had walked by a our route so my team took the extra flags and started retracing our steps, handing out flags to people who had recently arrived along the parade route. We even had a couple kids run across the street to get flags from us.
By the time we got to the spot were the Cub Scout's parents were sitting for watching the parade, we had handed out all the flags. And just in time. The honor guard that was leading the parade was marching only a few blocks away from us. The parade had started. The only thing the Boy Scouts, Cub Scouts, and leadership had left to do was to sit back and enjoy the parade. And eat the Tootsie Rolls thrown to us, of course.