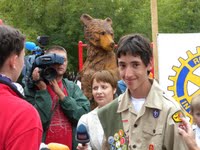 The Eagle Project is one of the biggest challenges to attaining the rank of Eagle Scout in the Boy Scouts of America. For many Scouts it is probably the first time they have ever had to plan, prepare, and conduct such an activity. Dozens, even hundreds, of hours will be spend on a project. Papers need to be signed, people and groups contacted, materials bought, and refreshments need to be provided. It is quite a job for a teenager to carry out. Yet they do, and communities benefit from the projects.
There has recently been an article passed along in Scouting groups about an Eagle project that helped a group of children half a world away. Alex Griffith, a sixteen year old from Maryland, decided to help an orphanage in Russia when it came time for his project. It was the same orphanage that he lived in before he was adopted by Dwight and Jenny Griffith as a young child. To understand the enormous nature of this project here is an except from an article on the CNN website:
Alex devoted 2 ½ years to his Krasnoyarsk Playground Project. In addition to recruiting more than 500 volunteers in five countries, he raised more than $60,000 by soliciting help from local Rotary Clubs and joining forces with other Boy Scouts for candy sales, car washes and barbeque fundraisers. Alex oversaw every aspect of production, from designing and purchasing the playground to shipping equipment overseas.
The whole article can be seen at:
http://edition.cnn.com/2009/LIVING/wayoflife/09/10/cnnheroes.alex.griffith/?imw=Y
Be sure to check out the project's website for the facts and figures from this project: http://www.krasplayground.org/ (By the way, the picture shown with this article is from this website.)
This was an awesome project. And tell the truth, another awesome aspect of this project is that CNN decided to list Alex as a CNN Hero. It is great to see a national news agency picking up a positive story of Scouting.