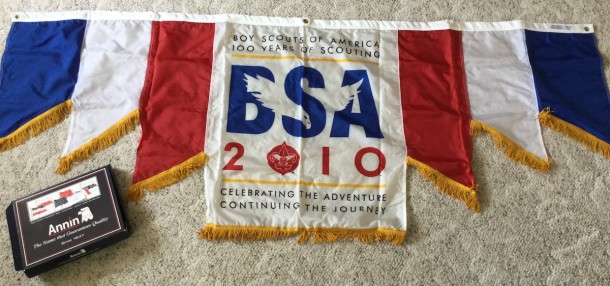 Melrose Boy Scout Troop 68 has been using the Boy Scout decorative drape for many years, decades even, at its court of honors and special functions. It adds a nice bit of color to the ceremony and makes things look a bit more official. At least I think it does. They are a little pricey (they are sold for $64.99 on the scoutstuff.org website) but I think the troop has got their money's worth from ours.
I was at the council Scout Shop today to look around and found something else that could be used to add a bit more color to the ceremonies. The 2010 Boy Scout Centennial drape was on closeout. It was priced for only $9.88. That was too good of a deal to pass up. I own one now. It will become part of my Scouting collection, but I may let the troop use it if they want to for their courts of honor. It might even be a good thing to display during the fall School Night To Join Scouting. I am sure I will find some uses for it.
Will you be heading to your local Scout Shop to pick up one of these closeouts? Or does your troop already own one?