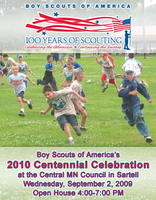 The Century Of Values Tour comes to the Central Minnesota Council today. If you have not heard about this you really should check out their website at http://www.acenturyofvalues.org/
I have been waiting for months for the RV and mural to arrive in our council. The council is planning an open house this afternoon from 4:00-7:00, and I plan to go there once I get done with work. Various activities are planned and the Jamboree troops are holding a rib dinner fundraiser. It should be a good time.
I plan to bring my still and video cameras with me so keep out a look out in the near future for more information in the blog, and a podcast about the event.