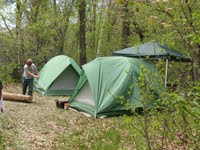 The current incarnation of Boy Scout Troop 68 began in December 1979, nearly thirty years ago. The troop had virtually no money and only a small amount of gear that had been salvaged from previous troops. The charter organization was not able to, or chose not to, give much financial assistance to the fledgling troop. One of the committee members loaned the troop a couple hundred dollars to get things started. (That was quite an investment, don't you agree?)
Due to that lack of funds over the first couple of years the troop bought inexpensive gear, including tents. Those first tents were small dome tents which I believe cost about $60.00 or so. They were small. Two boys and their gear filled the tent. But they did the job for a few years until we were able to purchase something better.
After a few fairly successful fundraisers, and a couple of letters to local service groups, the troop was able to buy better equipment. After some research we decided to buy some Eureka Alpine Meadows tents. The Alpine Meadows were a midsize tent, about 5'x7′, which could house three small boys and gear fairly comfortably. They were a good quality tent and lasted for many years. We were happy with the $200 per tent purchase.
It was a sad day for Troop 68 when Eureka decided to discontinue the Alpine Meadows series. As those tents wore out we began buying the Eureka Timberline tents, which were simular to the Alpine Meadows, less a couple of features. We had noticed that many other troops in the area were using the Timberline tents and seemed to be satisfied with them.
In the late nineties the troop bought a large two room Eureka tent for the adults who attended the camping trips. The fathers and adult leaders could now bring cots so they could sleep more comfortably, especially those that had back problems. We are still using that tent but it is showing its age. There is a rip in the front door, currently held together with duct tape. This summer while at Many Point Scout Camp door's zipper decided to quit working. I am sure we will soon be looking for a new tent. The Eureka brand has been good for us over the last 25 years so I bet the new tent could end up being a Eureka also.
What kinds of tents have you had good luck with using?