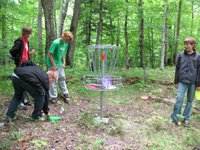 A lot comes to mind when I think about spending a week at summer camp. Scoutcraft, beach activities, and friendships are just a few, but there are a lot more.
The weather always adds something to the memories of camp. I never forget to pack my rain gear because I know there will be at least one rainy day during the week. On the sunny days the temperatures can reach the 90's, which can be pretty nasty when you add in the humidity of Minnesota's 10,000 lakes. The mosquitoes and deer flies love the hot humid weather and often make the evenings a challenge to enjoy. Those are the days I am glad I made the investment of a screen porch to bring to camp.
This summer's trip to Many Point Scout Camp added a couple new memories to the many I already have. The week began with Sunday and Monday being sunny and comfortable days. The usually rainy day came on Tuesday as a cold front moved into the area. The light drizzle turned to a heavy rain along with thunder and lightning which closed many of the camp's program areas for safety reasons.
Suddenly, there was a bright flashing of light followed by a deafening boom of thunder that happened at the same moment. Everyone in our campsite jumped inside their tents, including me. My assistant scoutmaster, who happened to be sitting in the screen porch, looked up in the sky in time to see a "ball of fire" to the east of us. We later discovered that lightning had struck a tree near the MPSC administration building which is less than a mile from where we were camping.
The cold front dropped the temperature enough that everyone put on a jacket or sweatshirt. Unfortunately, it stayed cool on Wednesday, and Thursday, and Friday. It was so cool that the Scouts decided to skip their troop aquatramp period at the beach Thursday afternoon, and their two hours of sailing on Friday. They had suddenly become fans of disc golf.
Even though the boys decided it was too cool to do activities at the waterfront they did keep busy with camp activities. And there was one advantage to the cool weather. The mosquito population was down, and the deer flies were almost nonexistent. I guess the insects preferred the warmer weather.